Jordan Minister of Awqaf visits IIFA General Secretariat
His Excellency Prof. Koutoub Moustapha Sano, Secretary General of the International Islamic Fiqh Academy (IIFA), received His Excellency Dr. Mohammed Al-Khalayleh, Minister of Awqaf, Islamic Affairs and Holy Places in the Hashemite Kingdom of Jordan, and his accompanying delegation on Tuesday, 04 of Rabi' al-Thani 1443H corresponding to November 09, 2021G, at the headquarters of the General Secretariat of the Academy in Jeddah, Kingdom of Saudi Arabia.
His Excellency the Secretary General welcomed his honorable guest, thanking him for this important visit, expressing his thanks and appreciation to the State of the Hashemite Kingdom of Jordan for its support of the Academy since its establishment to this day. His Excellency also gave an overview to the guest and his companions about the structure of the Academy and its goals, the activities and achievements it has carried out during the recent period and the developments that it witnessed, noting in this regard the prestigious position and the great appreciation that the Academy enjoys from the member states of the Organization of Islamic Cooperation (OIC), praising the efforts made by the Jordanian scientific institutions in the field of promoting the values ​​of moderation and the renunciation of violence.
He also expressed his aspiration for more strategic partnerships between the Academy and the member states, especially in the field of joint organization of seminars, conferences and workshops on calamities and developments, as well as the Academy's keenness to cooperate with the official institutions in order to recruit its most prominent scholars and researchers in the conferences it organizes.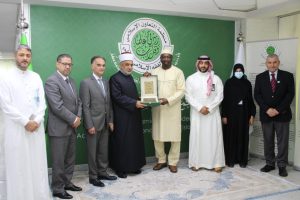 For his part, His Excellency Dr. Mohammed Al-Khalayleh expressed his happiness and gratitude to His Excellency the Secretary General for the warm welcome and praised the qualitative developments witnessed by the Academy at all levels, especially with regard to direct and continuous communication with Member States and their leading scientific institutions. His Excellency also praised the good and professional organization of the seminars and conferences of the Academy, which makes it easier for scholars and researchers to carry out their scientific role to the fullest, and this is especially evident in the valuable resolutions and recommendations issued by the Academy since its establishment, which have become an official reference for all fatwas in the Muslim world and beyond.
The meeting was attended by His Excellency Ambassador Jaafar Mohammed Jaafar, Consul General of Jordan, Mr. Ziad Al-Beik, Director of the Office of His Excellency the Jordanian Minister of Awqaf, Ms. Sarah Amjad Hussein, Director of the Family and Women Affairs Department at the Academy, Mr. Mohammed Al-Idrisi, Director of the Media and Information Technology Department at the Academy, and Mr. Mourad TLiLi, Adviser to the Secretary General for Public Relations and Media Affairs at the Academy, and Mr. Amjad Ibrahim, Head of the Protocol Division at the Academy.