The Guinean Minister of Foreign Affairs receives the Secretary General in Conakry
His Excellency Dr. Morissanda Kouyaté, Minister of Foreign Affairs, International Cooperation, African Integration and Guineans Abroad, received, on Wednesday, 19 Rabi' al-Thani 1443H corresponding to 24 November 2021G, His Excellency Prof. Koutoub Moustapha Sano, Secretary General of the International Islamic Fiqh Academy (IIFA), at the Ministry's headquarters in Conakry, Republic of Guinea.
The Minister welcomed his guest and congratulated him for the role he played in raising the country's reputation through his outstanding performance in managing the Academy, then expressed to him his, and the Guinean government's, commitment to strengthening cooperation relations with the Organization of Islamic Cooperation (OIC) and all its institutions, especially the Academy which is headed by a Guinean citizen represented in the person of his Excellency. He also expressed his ministry's readiness to support the various projects and programs of the Academy aimed at promoting peace and tolerance in the world.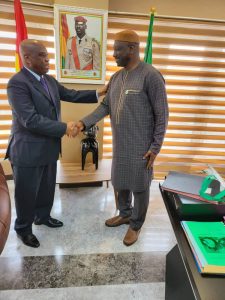 For his part, His Excellency Professor Sano thanked His Excellency the Minister for the warm welcome filled with feelings of affection, appreciation, and brotherhood. His Excellency also took this opportunity to express his great gratitude and appreciation to the Republic of Guinea for its continuous support to the Academy.
His Excellency concluded his speech by expressing his aspiration to establish strategic partnerships between the Academy and the scientific and religious institutions in the Republic of Guinea.