A delegation from Almaty Management University Visits IIFA
His Excellency Mr. Mohamed Mondher El-Chouk, Director of Cabinet and Protocol Affairs at the International Islamic Fiqh Academy (IIFA), received His Excellency Dr. Assylbek Kozhakhmetov, President and Founder of Almaty Management University in the Republic of Kazakhstan, and his accompanying delegation, on behalf of His Excellency Professor koutoub Moustapha Sano, Secretary General of the Academy, on Tuesday 24 Jumada II 1444H corresponding to 17 January 2023G at the headquarters of the General Secretariat of the Academy in Jeddah.
His Excellency the President of the University expressed his thanks and gratitude to the Academy for arranging this meeting, noting the prestigious position and distinguished scientific reputation that the Academy enjoys at the global level, adding his university's aspiration to scientific and academic cooperation with the Academy in order to establish a department for teaching Shariah and Islamic sciences. He also expressed the university's desire to participate in all the scientific events organized by the Academy in order to make the most of the global scientific resources that abound in it.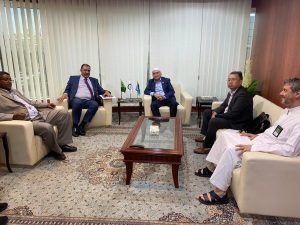 For his part, His Excellency the Director of the Cabinet expressed his welcome to the guests of the Academy and conveyed to them the greetings of His Excellency the Secretary General and his wishes for success in his endeavors and the permanent commitment of the Academy to support the efforts of all official scientific institutions in the member states of the Organization of Islamic Cooperation (OIC) to achieve their scientific and educational goals in the service of the Muslim Ummah and its various causes. His Excellency added that the university can also reach out to the concerned department within the OIC in order to mobilize the necessary logistical support for the establishment of this new scientific department, wishing him success in this good endeavor.
The meeting was attended by Dr. Bakytzhan Sarkeyev, Vice-Rector for Science, Dr. Abdel-Fattah Abnauf, Director of the Planning and International Cooperation Department, Dr. Alhagi Manta Drammeh, Head of the International Cooperation and External Relations Division of the Academy, and Mr. Mourad TLiLi, Advisor to the Secretary General for Media and Public Relations Affairs.