IIFA Secretary General participates in the periodic meeting of the Muslim Council of Elders in Abu Dhabi
At the invitation of His Eminence the Grand Imam, Sheikh Dr. Ahmed Al-Tayeb, Sheikh of Al-Azhar Al-Sharif, Chairman of the Muslim Council of Elders, His Excellency Prof. Koutoub Moustapha Sano, Secretary General of the International Islamic Fiqh Academy (IIFA), participated on Tuesday 25 Rabi' al-Thani 1443H corresponding to 30 November 2021G at the fifteenth periodic meeting of the Council in the Emirate of Abu Dhabi, the United Arab Emirates.
His Eminence the Grand Imam began the meeting with an opening speech in which he expressed his great thanks and great appreciation to the members of the Council for their presence. He also expressed his aspiration for an active presence and active participation of the Council in issues of peace, coexistence, and tolerance in the world, noting in this regard the importance of activating the Council's role at all levels to advance its message optimally. His Eminence also called on the General Secretariat of the Council to benefit from the expertise and experience of the members in order to improve the performance of the Council.
Then His Eminence asked the Secretary General of the Council, His Excellency Dr. Sultan Al Rumaithi, to submit a detailed report on the Council's activities during the past period, and on the Council's future projects. After an extensive review of the report, His Eminence invited the members to discuss it and express their comments and suggestions. Over the course of four consecutive hours, the members discussed many important programs and projects that the council should implement and accomplish during the coming period.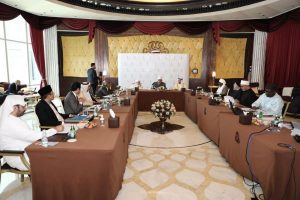 The Council issued a final statement that included an appeal to Muslim countries and communities for cooperation, solidarity, support, tolerance, and the promotion of peace and moderation, and an appeal to scholars and clerics to play an effective role in promoting awareness of the adverse effects of climate change and the importance of preserving the environment. The statement also expressed the Council's intention to hold the next edition of its initiative "East-West Dialogue 2022" in the Kingdom of Bahrain during the first semester of next year.
It is worth mentioning that the Muslim Council of Elders is an independent international body whose objective is to promote peace in Muslim communities and to spare them conflict and division. It is independent in managing its affairs and expressing its opinion on the issues it addresses. It consists of a group of Muslim scholars known for their wisdom, sense of justice, independence, and moderateness. They work together to promote peace, to discourage infighting and to address the sources of conflict, divisiveness, and fragmentation in Muslim communities.