IIFA & WMCC Sign a Memorandum of Cooperation
The International Islamic Fiqh Academy (IIFA) and the World Muslim Communities Council (WMCC) signed on Thursday, 22 Rabi' al-Awwal 1443H, corresponding to 28 October 2021G, a memorandum of cooperation aimed at collaboration between the two parties in all fields to confront contemporary and emerging issues that appear in Muslim Communities outside the member states of the Organization of Islamic Cooperation (OIC), and to build bridges of cooperation between the two institutions in areas and issues of common interest.
The memorandum was signed on the part of the Academy by His Excellency Prof. Koutoub Moustapha Sano, Secretary General of IIFA, and on the part of the Council, His Excellency Dr. Ali Rashid Al Nuaimi, President of the Council, at the Council's headquarters in Abu Dhabi during the official visit of His Excellency the Secretary General of the Academy to the United Arab Emirates. The agreement seeks to enhance cooperation and coordination in supporting and assisting Muslim communities outside the member states of the OIC and regulating their lives in accordance with the purposes and values ​​of Islam, by monitoring calamities, problems and emerging Fiqh issues, and providing fatwas and appropriate solutions to them, in a manner that achieves the interests of these communities and contributes to their integration in their countries.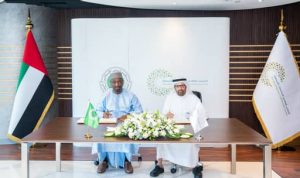 The memorandum of cooperation also aims to organize training courses to train and supervise muftis, imams, and preachers in Muslim communities, thus contributing to the development of a new generation of religious leaders capable of facing the modern challenges armed with the tolerant spirit of Islam. Under this agreement, work will be done to promote the values ​​and culture of dialogue and coexistence to achieve the integration of Muslim communities in their countries, and to present the true image of Islam to the world, thus contributing to confronting the culture of Islamophobia, and promoting the values ​​of tolerance and peace in those communities.
The two parties also agreed to publish and translate books and contemporary scientific research that criticize the phenomenon of religious phobia, hate speech and reasons for contempt for religious and cultural symbols, as well as publishing and translating precious heritage books that show the primacy of Islamic law in promoting coexistence, in addition to exchanging sources of knowledge, education, and scientific publications related to issues of Islamic heritage, dialogue between followers of other religions, manifestations of religious phobia, hate speech, foundations of coexistence and the clash of civilizations.