IIFA and UNA sign a Memorandum of Understanding
Within the framework of strengthening the strategic partnership between the International Islamic Fiqh Academy (IIFA) and the Union of News Agencies of the Organization of Islamic Cooperation (UNA), and as an embodiment of the regional and international leadership role of the two parties in supporting Islamic causes, and in consolidating their common vision of rejecting extremism and violence and combating terrorism by spreading the values ​​of tolerance and moderation, His Excellency Prof. Koutoub Moustapha Sano, Secretary General of the Academy, and His Excellency Mr. Mohammed bin Abd Rabbo al-Yami, Acting Director General of UNA, signed on Thursday, 06 of Rabi' al-Thani 1443H corresponding to November 11, 2021G, a memorandum of understanding between the two institutions at the headquarters of the Academy in Jeddah, Kingdom of Saudi Arabia .
This agreement aims to coordinate and cooperate between the two parties in a scientific manner, on a periodic and regular basis, to serve the public interest and within the scope and specialization of each party. The agreement also aims to jointly organize conferences and symposia, hold workshops and training, exchange publications, and represent the two sides in the work of conferences and symposia that are held by each in the field of common interest between them. It also aims to support coordination between the two parties for the production and distribution of all types of media content that exposes the activities and projects of each party.
Following the signing of the agreement, His Excellency Prof. Koutoub Moustapha Sano expressed his happiness and welcomes this fruitful and constructive cooperation between the institutions and organs of the Organization of Islamic Cooperation (OIC), and also expressed his aspiration to implement all the terms and scope of the agreement, which contributes to more regional and international exposure of the activities and projects of the Academy. His Excellency affirmed that concerted efforts, coordination, and continuous cooperation among the institutions affiliated with the organization would raise the efficiency of these institutions and enable them to achieve their goals and programs as planned.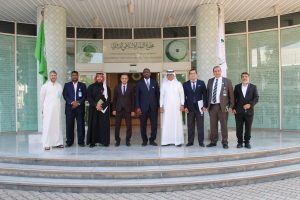 In implementation of the terms of the memorandum, the two parties agreed to form a specialized committee that will meet as needed to determine the ways and mechanisms of implementation according to the vision contained in the memorandum itself.
The signing ceremony of the agreement was attended by Mr. Younis Inayat, Director of Relations and Strategic Development in UNA, and Mr. Salah Mourad, Director of Marketing and Finance in UNA. On the side of the Academy, Mr. Mondher El-Chok, Director of the Cabinet and Protocol Affairs Department, Dr. Abdel-Fattah Abnaouf, Director of the Department of Planning and External Relations, Mr. Mohammed Al-Idrissi, Director of the Media and Information Technology Department, and Mr. Mourad TLiLi, Advisor to the Secretary General for Public Relations and Media Affairs.