US Special Envoy to Monitor and Combat Anti-Semitism Visits IIFA
His Excellency Prof. Koutoub Moustapha Sano, Secretary General of the International Islamic Fiqh Academy (IIFA), held a meeting with a high-level delegation from the United States of America headed by Ambassador Dr. Deborah Lipstadt, Special Envoy to Monitor and Combat Anti-Semitism on Thursday 01 Dhul Hijjah 1443H corresponding to 30 June 2022G at the headquarters of the General Secretariat of the Academy in Jeddah, Kingdom of Saudi Arabia.
At the beginning of the meeting, the Ambassador expressed her great pleasure at visiting the Academy and thanked His Excellency for welcoming her and the accompanying delegation, stressing that this visit represents the first in a series of visits that she would like to make to the region, and it also comes as an affirmation of the great importance of this great Islamic edifice that strives to promote and disseminate the values ​​of love, tolerance and coexistence. She praised the Academy's esteemed efforts in dismantling hate speech, violence, extremism, and hostility to religions and symbols, through its resolutions and recommendations, and through seminars and conferences it organizes from time to time. She also expressed her happiness with the Academy's desire to coordinate and work together to organize programs and activities aimed at combating hate speeches and rejecting the other, and promoting violence, extremism and exclusion.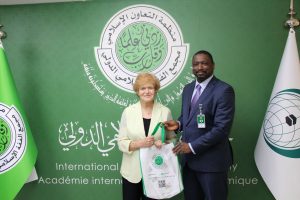 For his part, His Excellency welcomed the Ambassador and the delegation accompanying her and thanked her for allocating time to visit the Academy and learn about the work and activities it is doing in the field of combating all forms of extremism, violence and abuse of religions and symbols, including anti-Semitism and religious phobia. His Excellency seized the opportunity to congratulate the Ambassador on her appointment as special envoy to combat anti-Semitism, wishing her success in her duties, stressing the Academy's full support for all efforts and activities aimed at promoting human brotherhood and human dignity, and rejecting violence, extremism and fanaticism. His Excellency explained that the Academy's position as the supreme religious authority of the Muslim Ummah dictates on it to harness all its capabilities, abilities and experiences in supporting and promoting a culture of moderation and tolerance and building bridges of communication and understanding between people of different religions and beliefs. His Excellency concluded by expressing his aspiration for close cooperation and coordination between the Academy and the Ambassador's office to achieve the common goals.
The meeting was attended by His Excellency Mr. Faris Asaad, Consul General and Special Envoy of the USA to the OIC, Mr. Ludovic Hood, Senior Adviser to the Special Envoy, Ms. Sarah Badewi, Director of Women and Family Affairs at the Academy, and Mr. Mourad TLiLi, Adviser to the Secretary General for media.