IIFA Secretary General delivers the Friday Sermon at the International Islamic University Mosque in Malaysia
At the kind invitation of the management of the International Islamic University, His Excellency Prof. Koutoub Moustapha Sano, Secretary General of the International Islamic Fiqh Academy (IIFA), was honored today 21 Muharram 1444H, corresponding to 19 August 2022G, to deliver the Friday sermon at the Mosque of the International Islamic University in Kuala Lumpur, Malaysia in the three languages, Arabic, English and Malay. The topic of the sermon was "Supplication in Islam: its importance, its position, its times, the conditions for its acceptance."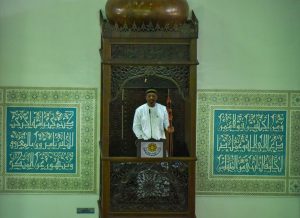 In his sermon, His Excellency called on the worshipers of the university's students and employees, to make the most of the eternal prophetic supplications that the greatest Messenger, may God's prayers and peace be upon him and his family, left for his Ummah and he used to teach his companions, may God be pleased with them, noting that "the Messenger of God, may God's prayers and peace be upon him and his family, taught us supplications covering all sides of Muslim's life. There are supplications for the prevention of diseases and bad ailments, supplications for the prevention of poverty and humiliation, supplications to help eliminate debts, to remove the growing concerns, supplications for the prevention of human and jinn demons, supplications to enjoy the blessing of hearing, sight and reason, there are even supplications for fear of the oppressors, and supplications to relieve stress in times of adversity. Thus, it is necessary for the Muslim to fortify himself with these supplications and remembrances at all times and on every occasion, and he should not leave his home before reading those supplications that are authentic, for they are his invincible weapon, his fortress that is not defeated, and his unbeatable protection. Congratulations to whoever benefited from these treasures, learned them, and taught them to his family."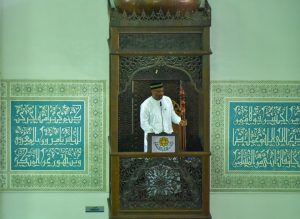 His Excellency also spoke about special times for supplications that the Prophet, may God's prayers and peace be upon him and his family, recommended, such as the time of rain, between the call to prayer and the iqaamah, the last third of the night, Friday, Laylat al-Qadr, the day of Arafa, and when breaking the fast. He concluded his sermon by clarifying the conditions that must be met for those supplications to be answered, and these are the conditions that were referred to in the authentic hadith: "the servant will still be answered as long as he does not supplicate for sin, or severing the ties of kinship, and as long as he does not rush. It was said oh Prophet of God, what's rush? He said: To say: I have prayed, I have prayed and there is no response, so he will regret it, and abandons the supplication".
This sermon was well received by the audience.
It is worth mentioning that His Excellency had previously been given the honor of teaching in this prestigious university in both Arabic and English during sixteen (16) years, and he also received the royal decoration known as "Dato" from His Majesty the late Sultan Haji Ahmed Shah Al-Musta'in Billah, the son of the late Sultan Abu Bakr Re'ayat Al-Din Al-Moazam Shah, the former King of Malaysia, in recognition of his contribution to the advancement of education in Malaysia, both in terms of teaching and development.
This large mosque, located in the center of the university city in the village of Gombak, can accommodate ten thousand worshipers.