In his Speech at the Abu Dhabi Peace Forum… IIFA Secretary General calls on religious leaders to spread moderation and promote tolerance in societies
His Excellency Prof. Koutoub Moustapha Sano, Secretary General of the International Islamic Fiqh Academy (IIFA), participated in the 9th Assembly of the Abu Dhabi Forum for Peace, which was held this year under the title "Globalized Conflict and Universal Peace: Demands and Partnerships", under the kind patronage of His Highness Sheikh Abdullah bin Zayed Al Nahyan, Minister Foreign Affairs and International Cooperation in the United Arab Emirates, headed by His Excellency Sheikh Abdullah bin Bayyah, Chairman of the Emirates Council for Shariah Fatwas and Chairman of the Abu Dhabi Forum for Peace, from 14 to 16 Rabi' al-Thani 1444H corresponding to 8 to 10 November 2022G, in the UAE capital Abu Dhabi.
This year's 9th assembly was attended by delegations from about 60 countries, representing all continents of the world, with the attendance of nearly 500 participants, as well as 30 leading international organizations in the field of peace promotion and peacemaking, attending the Peacemakers Exhibition on the sidelines of the forum. The participants consist of a wide selection of decision-makers and religious leaders from all over the world, including ministers, representatives of UN organizations and government bodies, intellectuals and academic figures, officials of civil society institutions and organizations working in the field of peace and tolerance. This year's forum comes in an international situation that increases the level of challenges facing humanity, from the challenges of the health crisis that still casts a shadow over parts of the world, to the challenges of the economy and inflation witnessed by global markets, to the challenge of security and the threat of wars and tensions in different regions of the world.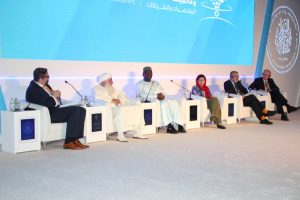 His Excellency the Secretary General of the Academy participated in the first major lecture session during the opening day of the assembly, which was held under the title "The Role of Religious Leaders in Achieving World Peace", with the participation of a group of world-class influencers from the Netherlands, the United States of America, Germany, the United Kingdom and Iraq. In his intervention, His Excellency expressed his thanks and gratitude to the leadership and people of the United Arab Emirates for hosting the Abu Dhabi Forum for Peace, and for its good sponsorship of this institution, which has provided and continues to provide more efforts, visions and ideas in order to promote peace in the world in general and in Muslim societies in particular. He also expressed his great gratitude and his great appreciation to His Eminence Sheikh Abdullah bin Bayyah, for his bright ideas, wise vision, and his awareness of the source of error and the incubator of error represented by the sick thought that fuels the fire of conflicts throughout the world, spreads wars between followers of religions, and hijacks the values ​​preached by Religions, namely peace, love, cooperation, unity, and acquaintance between peoples in order to make people happy and carry out the duty of construction. His Excellency indicated that addressing these exceptional circumstances that humanity is going through requires that each of us do what we can to extinguish the fires and declare war on wars to achieve peace and security, and he added: "The desired role of religious leaders represented by imams, priests, monks, rabbis, and those in charge of educational institutions, is a great role because it is agreed that behind every extremism is thought, and behind every terrorism is thought, rather behind every radicalism and fanaticism is thought, and thought is the motivator, guide, and influencer on behavior and conduct. Therefore, religious leaders today must play their role in combating extremist ideology, and rejecting speeches of hate, exclusion, and contempt, and they must stand as an impenetrable barrier against every thought or opinion that spreads fanaticism, extremism, and terrorism. They must work together to promote awareness of the prohibition of aggression against people, honor and money, and there is no difference in that between whether that blood is the blood of a Muslim or the blood of a non-Muslim, and whether that money is the money of a Muslim or the money of a non-Muslim, and between that money is money of a person or money of other than a human being. And for a reason known only to God the Almighty, the supplication of the prophet, may God's prayers and peace be upon him, in the Farewell Pilgrimage was addressed to all people when he said: [O people, your blood, your honor and your monies are as sacred to you as the sacredness of this day of yours in this month of yours in this country of yours…] We must all of us, we religious leaders of all religions and beliefs, work to consolidate this principle to put an end to bloodshed, assault on honor, and extermination of wealth in the name of religions and beliefs, when religions are innocent of all these crimes perpetrated in their name falsely. "
In order to achieve this expected role of religious leaders, His Excellency stressed the importance of revising school curricula to become curricula that spread the values ​​of love, fraternity, tolerance, harmony and peace, building bridges, and transcending the remnants of history in order to put an end to feuding and fighting. His Excellency also explained that religious leaders should enhance the awareness of the public and followers that the difference between human beings in their religions and beliefs is a universal, eternal norm that cannot be removed because of the Almighty's saying: ((Had your Lord so willed, He would have certainly made humanity one single community of believers, but they will always choose to differ. Except those shown mercy by your Lord—and so He created them to choose freely)). And for His saying, ((And one of His signs is the creation of the heavens and the earth, and the diversity of your languages and colors. Surely in this are signs for those of sound knowledge)). These texts mean that pluralism and religious, ethnic and cultural diversity are a divine norm that cannot be ignored or removed from existence, and therefore cooperation, coordination and communication between religious leaders is necessary to enhance this understanding and consolidate it in minds and actions.
His Excellency concluded by calling to work hard to transform the principle of tolerance and coexistence into a concrete practical behavior and a continuous daily practice, and to the need for adherence to religions as a factor of discipline and enlightenment that guides humanity to noble values ​​and common lofty principles of love and fraternity, considering that the stability of the world will only happen by achieving those values ​​and principles, because they represent the path of goodness to spread peace, security and safety in the entire world.
It is worth noting that the Forum has been working since its first launch in 2014 to spread the values ​​of peace and tolerance by consolidating and communicating the concepts of peace to human societies, and refuting claims of extremism, hatred and exclusion. Its annual assembly is a scientific platform and a knowledge space in which religious and non-religious leaders meet to exchange views and experiences and explore ways of cooperation and partnerships on issues related to the promotion of peace around the world.