SMIIC's SG visits the Academy
The Secretary General of the Standards and Metrology Institute for Islamic Countries (SMIIC) of the Organization of Islamic Cooperation (OIC), Mr. Ihsan Ovut, and his delegation visited the headquarters of the General Secretariat of the International Islamic Fiqh Academy (IIFA) on Thursday 10 Jumadah II 1443H, corresponding to 13 January 2022G. His Excellency and his delegation were greeted by His Excellency the Secretary General of the Academy, Prof. Koutoub Moustapha Sano, and some senior staff of the Academy.
His Excellency the Secretary General welcomed the distinguished guest and delegation noting the distinct relationship between the Academy and the Institute since its inception, pointing out in this regard the positive cooperation between the Institute and the General Secretariat of the Academy in the field of issuing Islamic juristic standards for the halal industry in sacrifices, food, beverages, etc., in order to achieve the OIC's objectives in disseminating the halal industry committed to Islamic standards and to emphasize the strategic partnership between the two parties.
His Excellency expressed his aspiration to the commitment of the member states of the OIC to all Shariah standards of halal products such as foods, medicines and others, considering that these standards arise from the resolutions and recommendations issued by the Academy over four decades, and expressed confidence in the cooperation and integration of member states among themselves in the field of production and trade of halal products so that all their products are in accordance with the provisions of their religion and Shariah.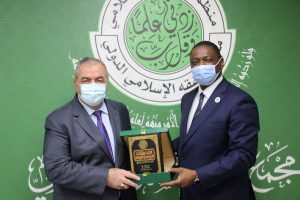 In this context, His Excellency promised to continue the cooperation and coordination between the Academy and the Institute through regular meetings, seminars, and joint conferences in order to continue serving Muslims and achieve OIC's objectives in the field of food and medicines compliant with Shariah.
For his part, H.E. Ihsan Ovut thanked the Secretary General for the warm welcome, praising the great efforts of the Academy under his Excellency's leadership to serve Muslims and their causes inside and outside member states. He also noted his satisfaction with the firm cooperation between the institute and the Academy in areas of halal products such as food, medicine, and clothing. He stressed the need to continue to intensify efforts and deepen cooperation between the two sides in order to keep pace with the developments and changes taking place in our world today, and in order to further enhance compliance with the decisions of the Academy and the standards of the Institute in order to keep up with the rapid scientific development taking place in this sector.
It should be noted that the OIC has chosen a unified Islamic organ to regulate the halal industry, as it established the Standards and Metrology Institute for Islamic Countries (SMIIC) which has membership of forty-five (45) Islamic states and fourteen (14) specialized regional and international organizations.